Pledge to be a Faith Climate Justice Voter
The National organization of Interfaith Power and Light is running a campaign to engage communities of faith in considering ways to put their principles into action. They are asking those communities to encourage their members to exercise their right to vote and to apply their faith principles in that voting. Their campaign is called "Faith Climate Justice Voter." To learn about this movement go to  FaithClimateJusticeVoter.org
At that site, there is an opportunity to pledge to be a Faith Climate Justice Voter. You will also find there material on social media guidance  and suggestions on how to communicate about these issues (Updated messaging).
Faith and
Care for Earth
in Times of Covid-19
As people of faith, we begin with love for all, and are called to care for Creation.
The COVID-19 pandemic continues to disrupt our lives, our jobs, our schools and our worship.
Many things are opening up, but not like it was before, nor should we expect life to go "back to normal."
In many ways, a new normal would be welcome - a more caring, sustainable way forward for all of humanity, and for all of life, reimagining what and who we value as essential.
Some faith communities are slowly returning to prior worship patterns, but others have chosen to continue to meet and to worship virtually.  Each community needs to decide for itself how best to proceed.
Regardless of how we choose to worship, we must remember and reach out to thosewho have been impacted the most, especially the most vulnerable who have become even more so during the pandemic.  They are all our neighbors.
Look on our RESOURCES page for words of inspiration and links to resources for returning to worship together.
Statements on the Murder of George Floyd, Racial Justice, and Environmental Justice
We at Vermont Interfaith Power and Light are deeply saddened and outraged at the latest in a series of despicable murders of black and brown people across our country - the murder of George Floyd at the hands of Minneapolis police and the police shooting of Rayshard Brooks in Atlanta. "Black Lives Matter" protests around this nation in response to these shootings are an expression of a built-up anger at injustice, frustration with the many forms of white supremacy that are inherent in our culture, and a deep longing for human dignity and justice for People of Color. The systemic racism that allows this kind of police brutality must stop and we must do our part. There can be no climate justice without racial justice. Around the world, people of color and people with fewer economic means - typically people of color - are those most affected by climate change, while contributing the least to the causes of the climate crisis. This is injustice. Issues of climate, economic and social justice are intrinsically interrelated. In recognition of this moment, we share some of the statements made in our movement as a response.                      It is our hope that they might deepen our thinking, raise our understanding, and prompt compassionate action.
The national Interfaith Power and Light organization has created a new page on their site with resources to help make the connection between environmental justice and racial justice. Check it out at:
https://www.interfaithpowerandlight.org/public-policy/take-action/climate-justice-is-racial-justice/
Minnesota Interfaith Power and Light Responds to the Murder of George Floyd
Our brothers and sisters in the Minnesota affiliate of Interfaith Power and Light have issued a letter responding to the murder of George Floyd by police in Minneapolis. Their letter speaks to the people of their state, but it also is a reminder to all people of faith that environmental justice is a part of the demand for justice for all. We join with our Minnesota friends in calling all people to stand up for justice for Mr.Floyd and the human rights of people of color as well as every marginalized group of human beings in our society. You can read MNIPL's letter here.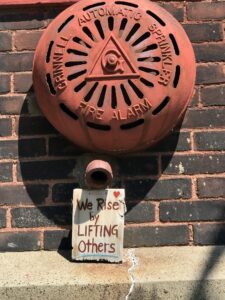 A Statement from Interfaith Power and Light
on the Murder of George Floyd
We are in a Kairos moment
Dr. Martin Luther King, Jr., in his Letter from a Birmingham Jail, wrote, "I have almost reached the regrettable conclusion that the Negro's great stumbling block in his stride toward freedom is not the White Citizen's Counciler or the Ku Klux Klanner, but the white moderate, who is more devoted to 'order' than to justice; who prefers a negative peace which is the absence of tension to a positive peace which is the presence of justice; who constantly says: 'I agree with you in the goal you seek, but I cannot agree with your methods of direct action'; who paternalistically believes he can set the timetable for another man's freedom; who lives by a mythical concept of time and who constantly advises the Negro to wait for a 'more convenient season.' Shallow understanding from people of good will is more frustrating than absolute misunderstanding from people of ill will."
The concept of time is an important one. There is "chronos" time - the kind that is set by watches and calendars; and there is "kairos" time - sometimes called "God's time" - which speaks of ripeness, of opportunity, of something that can give the present moment new meaning.
We are in a Kairos moment.
We know that there are deep inequities in our communities, in our nation, and in our world. We are not blind to the grave injustices that have existed and that are even now being further brought to light with the killing of George Floyd in Minneapolis, one of many such killings borne of systemic racism in America. We grieve with our black and brown siblings who are afraid and angry, and who seek equality and equal protection under the law.
This is a moral issue, deeply tied to white supremacy, economic injustice, voter suppression, and even climate justice. Those who suffer first and worst are those living in communities that have historically been marginalized and excluded from policymaking and opportunities for growth.
We look for hope.
While we don't condone acts of violence and destruction, we know that protest and demonstrations of solidarity can and have led to social change in our society. Our IPL Board Chair, Rev. Dr. Gerald Durley, marched with Martin Luther King, Jr. during the civil rights movement in the 1960's. He saw firsthand the power of organizing and peaceful protest in order to make constructive change.
What will we do in our Kairos moment? It is our fervent hope that by coming together, standing with one another in solidarity in this time of great suffering and challenge, that we can be the moral leaders that communities need in this time. Let's take this moment of opportunity to develop a different interpretation, rooted in a bold, meaningful vision for justice and love in our world.
With gratitude,
IPL Board of Directors
Rev. Dr. Gerald Durley – Chair
Rev. Susan Hendershot – President
The Rev. Sally Bingham – President Emeritus
Rev. Doug Bland
Morrow Cater
Rabbi Fred Scherlinder Dobb
Melissa Gavin
Gregory Lopez
Rev. Vy Nguyen
Sam Schuchat
Sarah Spengeman
Nathan Willcox
This message can be downloaded at A Message from IPL's Board of Directors_George Floyd June 2 2020

A Statement from Nebraska Interfaith Power and Light
The board and staff of Nebraska Interfaith Power & Light join with people of faith and conscience everywhere to condemn the brutal and senseless murder of George Floyd at the hands of police officers. Our mission of care for the earth and care for its people are inextricably connected. Therefore, we pledge to stand up against racism wherever it occurs and to take action to address the roots of racism wherever we can. Here are some reflections about what we can do.
The statement continues with reflections on three areas of respoinse: Listen. Lrearn, and Love. It can be read and downloaded here: Nebraska IPL Statement 6.5.2020
A Statement from Georgia Interfaith Power and Light
Sins of the Same Vine
...we must recognize that the same systems that perpetuate environmental injustices, injustices that disproportionately affect Black communities, are the very same systems that perpetuate the killing of Black people at the hands of police brutality.
It might be tempting to think that these issues are separate, especially for those of us immersed primarily in work around climate change and environmental justice, but that temptation is false. Make no mistake about it, the sinful ideologies that justify the raping and pillaging of God's creation merely for profit grows from the same sinful vine as white supremacy, the systemic commodification of Black bodies, and the structures that perpetuate the unjust murdering of Black people at the hands of police...
Read and download the full statement here: Sins of the Same Vine
It's Up to Us to End This,
by Rev. Michael Malcom, Exec. Dir. of Alabama IPL
"Greetings Climate and Faith Leaders. I hope and pray that you're safe and well. I decided to put my thoughts to paper surrounding all that is going on in my African Diaspora world. I hope that it can help in the tension. All of this is a Human Rights issue that stems from a belief in white supremacy and a system of racism."
Rev. Malcom's full statement can be downloaded at It's Up to Us to End This
FAITH CLIMATE JUSTICE VOTER
FAITH CLIMATE ACTION WEEK'S IMPACT CONTINUES

Download the free Faith Climate Action Week kit here
Out of our love and care for our neighbors, and to stop the spread of the COVID-19 virus, faith communities conducted their their Faith Climate Action Week events virtually. This nationwide movement of people of faith and conscience acted on climate April 17-26 - by creatively using digital networks and the Faith Climate Action Week resources to make love visible.
This year's theme is "Love Made Visible: Engaging in Sacred Activism" to protect the people we love who are most impacted by climate change. The kit is still available and includes a Sacred Activism guide on the importance of people of faith taking part in civic engagement, suggestions for activism challenges, and a Sacred Activism Art Guide to create eye-catching banners and placards with faith-based messaging.
You can still go virtual with your Sacred Activism event by encouraging members of your congregation to post pictures of themselves with their placards with the moral call to act on climate to social media during Faith Climate Action Week using the hashtag #FaithClimateActionWeek and tag @interfaithpowerandlight. Find suggestions for messages and images from IPL leaders from across the nation in the kit.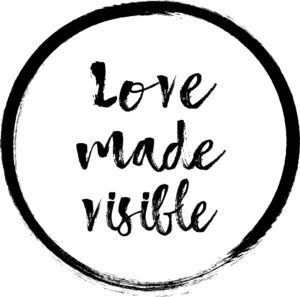 Faith and Care for Earth in Times of COVID-19 
As we all face such uncertain times, including social distancing, isolation – self-imposed and otherwise - we at VTIPL want to reach out to our treasured community to share some words of inspiration, and links to meaningful activities and information with which you may wish to engage. We encourage you to worship in your homes, in nature, to connect with friends and loved ones virtually, and to reach out to those who may be especially vulnerable during times of disconnection. A phone call for reassurance can make a world of difference in helping people feel less isolated. Look on our Resources page for the first installment, and check back regularly for updates.
Another Way to Make Your Voice Heard
Visit this site to design a postcard which they will send to your senators, representatives, and the governor, urging them to move our state to 100% renewable energy.

Faith Climate Action Day February 20
A resounding Thank You to all who came out and made this day
an amazing experience and successful call
for Climate Action in Vermont
A video of the morning's Press Conference can be viewed at https://youtu.be/QvEiNvm2uK8
For photos and future updates, go to faith-climate-action-day
Welcome to Vermont Interfaith Power & Light (VTIPL)
A Faith-Based Organization Taking Action on Climate Change
Vermont Interfaith Power & Light (VTIPL) works to help members of Vermont's faith and spiritual communities understand that the climate crisis, which is threatening the world, is, at heart, a spiritual crisis. This spiritual crisis demands recognition that Earth is a precious gift; global climate change is a moral challenge; global climate change is disrupting the natural balance; we live our faith through our actions; and there is no peace without a planet.
Vermont Interfaith Power & Light (VTIPL) seeks to empower members of faith and spiritual communities to advocate for our Earth and future generations. Vermont Interfaith Power & Light (VTIPL) helps people take action in their houses of worship, homes, and workplaces to conserve energy, use it efficiently, and increase the use of renewable energy.
Vermont Interfaith Power and Light is affiliated with the national organization, Interfaith Power and Light. Information about their work and connections to other state affiliates can be found on their website at
A flyer describing several IPL initiatives is available for your information and use:
Vermont Interfaith Power & Light (VTIPL)'s Watershed Manuals
Vermont Interfaith Power & Light (VTIPL) has created two manuals, one with a Christian emphasis, "Congregational Watershed Discipleship Manual: Faith Communities as Stewards of the World's Waters (1st Christian Edition)" and another with an interreligious emphasis, "Congregational Watershed Manual: Religious Communities as Stewards of the World's Waters (1st Interreligious Edition)."
In 2018, Vermont Interfaith Power & Light (VTIPL) joined with local organizations to create a model for watershed stewardship based on the experience of Ascension Lutheran Church in South Burlington, Vermont. The Reverend Dr. Nancy Wright, pastor of Ascension Lutheran Church, and Richard Butz, a member of the church, are co-authors of the manuals.
If you'd like to order one or more copies online, you can do this through the website of the organization, Voices of Water for Climate (VOW). These are high-resolution print copies, spiral-bound to lie flat conveniently. VOW is working with Vermont Interfaith Power & Light (VTIPL) to take orders and distribute printed copies of the manuals. Donations to VOW for printed copies will cover costs incurred, including shipping and handling.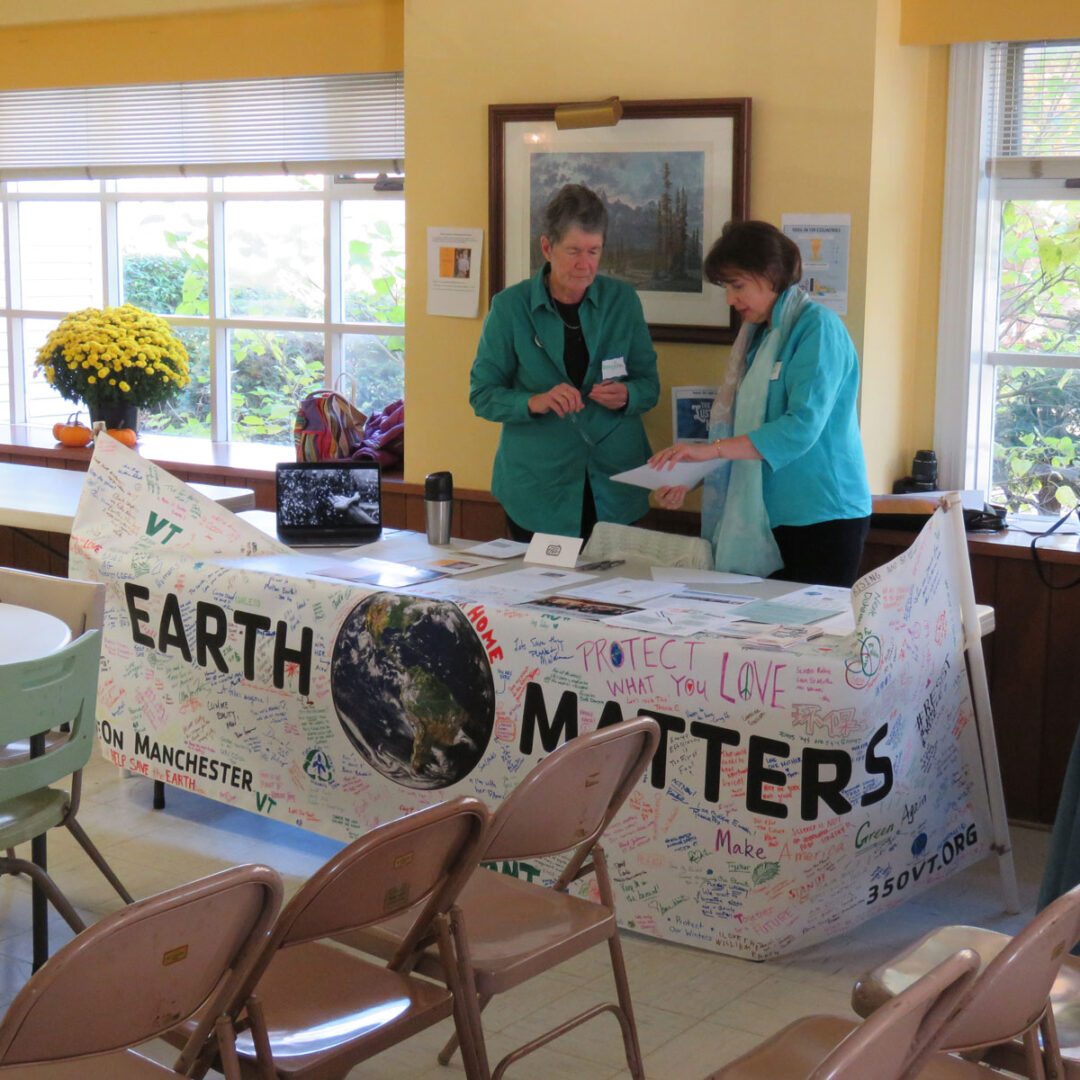 The Katy Gerke Memorial Program
The Katy Gerke Memorial Program has been established to honor the memory of Dr. Katy Gerke and to help Christian churches in Vermont and twelve New Hampshire towns in the Upper Connecticut River Valley* to improve the energy efficiency of their church buildings. Funds from this program can be used by churches to obtain professional energy audits of their buildings and to undertake projects, such as building or equipment improvements that will reduce the energy use and greenhouse gas emissions of their church building. All grants for energy audits, energy efficiency improvement, or renewable energy projects require that churches provide matching funds for each grant request.
A printable brochure containing a description and an outline of the program, and grant application forms are available. For more information, please contact Vermont Interfaith Power & Light (VTIPL) Coordinator, Betsy Hardy, at (802) 434-3397 or email info@vtipl.org.
*New Hampshire Towns: Bath, Charleston, Claremont, Cornish, Hanover, Haverhill, Lebanon, Lyme, New London, Oxford, Piermont, and Plainfield
Our work continues in 2020
Vermont Interfaith Power & Light has been working with individuals and their congregations throughout the State for the past fifteen years, inspiring them to take action on the climate crisis.  Your donations and support have made the  work possible, and we are deeply grateful!
 Your generous support made it possible in 2019 for VTIPL to
hold a very successful conference in October with two outstanding Keynote Speakers and excellent workshops;
hold six events - from St. Johnsbury to Bennington - in collaboration with Vermont Climate & Health Alliance, to show the documentary Paris to Pittsburgh followed by engaging panel discussions with state legislators and leaders; 
publish and give presentations on two congregational watershed manuals  (Christian edition and Interreligious edition) that address the importance of clean water, the problems affecting water, and the impact climate change is having;
advocate for action, as part of a coalition working to pass strong climate bills;
help congregations make their buildings more energy efficient; and
speak out at public events and in congregations for climate action now!
All of this, and more, happens because of your generosity.  There is much for us to do in the year ahead. We are grateful for your continuing support of our work and witness. Donations are appreciated year round. Please consider supporting Vermont Interfaith Power & Light using the Donate Now button at the top of this page.
Thank you!
A Full and Challenging Fall Conference
Vermont Interfaith Power & Light (VTIPL)'s Annual Conference was held on Saturday, October 26, in Middlebury with the theme:
Envisioning & Acting for the World We Want
The Congregational Church of Middlebury, UCC, was our gracious host. We are thankful to all of our sponsors, listed on our Fall Conference page VTIPL Fall Conference, and to all of our presenters and participants.
To see photos of the day, go to VTIPL Gallery and click on Fall Conference 2019.
You can also watch videos of portions of the day, including the two keynote speakers and two of our workshops at
https://bobthegreenguy.com/vtipl19/
To receive our monthly newsletter and keep informed about our work and upcoming events, sign up by emailing info@vtipl.org.
Fall Conference Keynote Speakers
Professor Molly Anderson
Molly Anderson is the William R. Kenan, Jr. Professor of Food Studies at Middlebury College in Vermont.  She is interested in multi-actor collaborations for sustainable food systems, food system resilience, human rights in the food system, the right to food in the US, and bridging interests and concerns of academicians and community-based activists.  She participates in Vermont's Farm to Plate Network; the Food Solutions New England network; the national Inter-Institutional Network for Food, Agriculture & Sustainability; and the International Panel of Experts on Sustainable Food Systems (IPES-Food).  She earned an interdisciplinary Ph.D. in Systems Ecology from University of North Carolina at Chapel Hill.
The Rev. Dr. Jim Antal
 Jim Antal is a denominational leader, climate activist, author and public theologian.  He serves as Special Advisor on Climate Justice to the General Minister and President of the United Church of Christ.  Antal's book, Climate Church, Climate World was featured on Earth Day in the Chicago Tribune (2018) and in Christian Century Magazine (2019).  From 2006 - 2018, Antal led 350 UCC churches in Massachusetts as their Conference Minister and President.  Antal is a graduate of Princeton University, Andover Newton Theological School, and Yale Divinity School, which recently honored him with the William Sloane Coffin Award for Peace and Justice.  In 2019, Antal was honored as recipient of the UCC's social justice prophet award.
Climate Change and Health Documents
Changes to the website of the Environmental Protection Agency (EPA) have raised concerns about the availability of educational materials related to the impact of climate change on human health. To be sure that they remain available, we have downloaded the documents and made them available. Below is a list of available pdf files that you can download.
One of the ways Vermont Interfaith Power & Light (VTIPL) helps congregations is by providing energy assessments of houses of worship and other religious buildings. The service is free to congregations that request this assistance. Vermont Interfaith Power & Light (VTIPL) asks each participating congregation to commit to using the recommendations to guide their ongoing efforts to improve the energy efficiency of their religious building. Send an email to info@vtipl.org for more information.