The Katy Gerke Memorial Program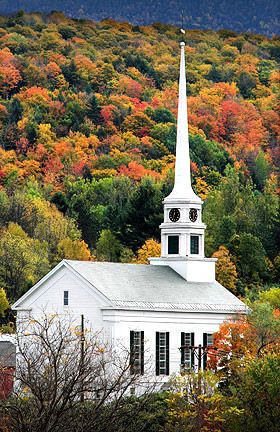 The Katy Gerke Memorial Program is a matching grant program created to honor the memory of Dr. Katy Gerke. A generous gift from Dr. Gerke's family established this fund and defined its purpose to help Christian churches in Vermont and twelve New Hampshire towns in the Upper Connecticut River Valley* to improve the energy efficiency of their church buildings. Vermont Interfaith Power and Light continues to seek funding for a comparable program to assist other faith communities in improving their energy efficiency.
Funds from this program can be used by churches to obtain professional energy audits of their buildings and to undertake projects, such as building or equipment improvements that will reduce the energy use and greenhouse gas emissions of their church building. All grants for energy audits, energy efficiency improvement, or renewable energy projects require that churches provide matching funds for each grant request.
Download a printable brochure containing a description and an outline of the program here: KGMPBrochure_2020. Grant application forms are available for download below.
For more information. about this program or to make a contribution toward establishing an additional grant please contact Vermont Interfaith Power & Light (VTIPL) Coordinator, Donna Roberts by email at info@vtipl.org.
*New Hampshire Towns: Bath, Charleston, Claremont, Cornish, Hanover, Haverhill, Lebanon, Lyme, New London, Oxford, Piermont, and Plainfield
Since the founding of the Katy Gerke Memorial Program, Vermont Interfaith Power and Light has awarded more than $100,000 in matching grants to faith communities throughout Vermont.  Some of the grants have been for professional energy audits that identified cost effective energy efficiency improvements which then resulted in an additional matching grant to implement these efficiency improvements.  Examples of some of the grants are:
St John's Episcopal, Randolph - energy audit of Rectory

United Church of Underhill Parsonage- insulation of attic floor, basement walls, air sealing and new windows.  Comment from The United Church of Underhill: The pastor and his family's comfort was improved dramatically, "No more moving curtains due to drafts and no more need for blankets in the living room"

United Church of Christ, Waitsfield - insulation, air sealing, energy efficient lighting

First Baptist Church of Manchester Center-energy audit followed by grant for attic and basement insulation

United Church of Dorset and East Rupert-energy audit followed by grant for a heat pump to reduce heating oil use and programmable thermostats
Download Katie Gerke Memorial Program Brochure and Application Forms here:
One example of a Vermont faith community that has used the Katy Gerke Memorial Program to take actions to address the climate crisis and the threat it presents to Creation is the United Church of Dorset & East Rupert.  
The Green Team at the United Church of Dorset & East Rupert
Founded in 1784 the Dorset Church, now the United Church of Dorset & East Rupert, has a history of almost 250 years of spiritual commitment to its community and to Creation.  Now, with its active Green Team it's preparing for its members and their grandchildren through its commitment to reducing its carbon emissions.
Originally heated with locally cut wood, the church at some point switched to heating with fuel oil.  Recognizing their commitment to Creation and the negative effects of burning fossil fuel, the Green Team's purpose is to reduce their church's carbon emissions while also saving money.  To pursue this the Green Team has lead the congregation in making the following changes:
Replacing the oil-fired water heater with an energy efficient heat pump water heater.

Installing cold-climate heat pumps to heat their administrative rooms

Installing a cold climate heat pump to heat/cool the sanctuary

Installing programmable thermostats when the heat pumps were installed.
A portion of the cost for these changes was provided by a grant from Vermont Interfaith Power and Light,  www.VTIPL.org.
These changes have enabled them to reduce their heating fuel use by approximately 50%.  And, although their electricity use has almost tripled, all of their electricity is clean, renewable solar generated.  They've met their immediate goal of reducing their carbon emissions while saving money.
These are not the first things the Green Team has undertaken to reduce their energy use and carbon emissions.  In 2013 they had an energy audit done with help from a Vermont Interfaith Power and Light grant and had weatherization and air sealing done.  The also switched their incandescent lights to LEDs and in 2016 replaced fluorescent fixtures with LEDs.
Until COVID took over, they were running a van- pool once a month to take parishioners and neighbors to Aldi's in Bennington for grocery shopping.  It was a boon to some who were not confident about driving and certainly a gas saver.  Each chipped in $2 for gas and had a good time to boot.  They look forward to resuming and perhaps expanding this service.
But, the Green Team is not done.  Future plans call for further reducing their heating oil use for the Sunday School rooms, the Pastor's study and the Vestry.  They're also looking at the manse, which is heated by oil, and they're discussing carbon-free transportation, composting and "natural burials.
The Green Team at the United Church of Dorset & East Rupert has made a meaningful commitment to Creation and is continuing to look for ways to further that commitment.